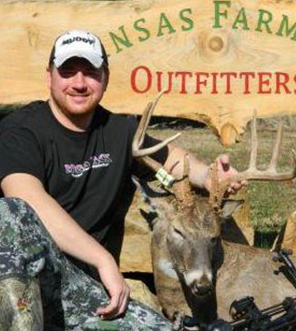 Steve and all the rest of the staff at Kansas Farmland Outfitters truly raise the bar in the Kansas whitetail world! Steve knows deer, has big deer and has a lot of deer. We had encounter with a 160 plus inch 8 point buck deemed the "Big 8", and numerous other deer scoring between 140-160 inches, in other words I'll definitely be back again next November! The team at KFO produce bow, muzzleloader and rifle hunts of a lifetime. I recommend you go with the "Wilderness Package" which includes a stay in a wall tent and campfires in the evening that created memories for me that will never go away. I give it 5 stars!
- Brian Smith
Director of Operations for Hunting Pro Properties & co-founder of Hallowed Ground Outdoors TV Show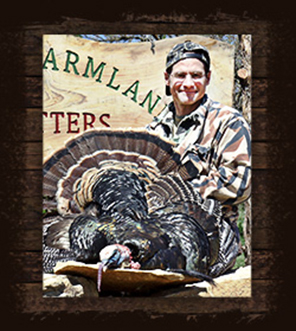 When I made the decision to go on an outfitted hunt for Rio Grande gobblers, I was a bit apprehensive about choosing an outfitter. I had no previous, personal experience with outfitters who offered Rio hunts, nor did I personally know anyone who had. After checking out the websites of maybe half a dozen outfitters, I felt most comfortable with what I saw in KFO. My comfort level only increased after talking with Steve Hall on the telephone, as well as the reference that he readily provided me. Booking my hunt was a breeze and whenever I called or emailed Steve with a question, I received a response in less than 24 hours.
Once in Kansas, I found Steve and his wife to be very gracious hosts. The accommodations were clean and comfortable, the food was tasty and plentiful, and the hunting grounds were just minutes from the lodge. Each morning we were up, fed and in the woods well before daylight. We hunted hard and saw plenty of game. Steve was very flexible, allowed me to do all my own calling and he solicited my input on how we would hunt. I was fortunate to take a big, mature tom during the afternoon of my first day, but Steve continued to hunt on days two and three to fill my second tag in the same manner as when we were hunting for my first bird. All three days of my hunt, we were into birds every time we left camp, and although I had opportunities to take a second bird, I chose to just take some great pictures instead. Still, Steve continued to hunt with the same interest and intensity each day, all day, until my time was up.
I must say that I was 100% satisfied with KFO and would not hesitate to book another hunt with them. I found their accommodations, property and game populations to be as advertised. At the same time, I found Steve to be the person of integrity and hard work that I expected. When I hand over my hard earned dollars for an outfitted hunt, I have very high expectations for the total experience. I can honestly say that KFO delivered; it was worth every penny.
I'm now considering a KFO Whitetail hunt and if I am able to make that happen, I am confident that it too will be the same quality experience that I had hunting Rio's.
Thank you KFO for a wonderful Kansas experience. Can't wait to come back!
- Steve Martin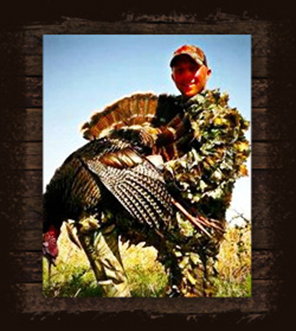 I experienced my first guided hunt this spring with KFO. I'm not going to lie; I was never a big fan of guided type hunts but was very surprised on how I felt after experiencing the hunt with the KFO crew. I loved it! They made me laugh and feel like I was back in Iowa hunting with my buddies. They basically asked us what we wanted and delivered that type of hunt to us. I personally wanted more of a "show me where to go hunt" and that's exactly what they did. Had I wanted someone to call me a turkey in and put me in a blind, they would have done that for me. The food was GREAT too. The weather was terrible but the KFO crew was relentless and always had a plan. The sun finally showed up on the third day and I killed my first Rio and so did my buddy Tim (Brother Casey killed one the night before). We were so pumped and it was very rewarding. I'm glad we chose KFO!
- Cody Bisher
Average Joe's Hunting Show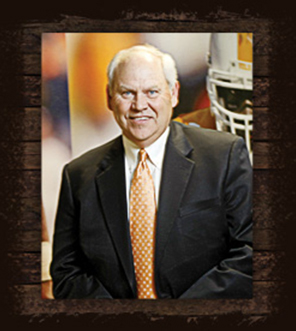 Steve Hall is a great guy and a great hunter. I am glad to see that he is sharing his passion" for hunting and his beautiful home area with the rest of us that love a productive day in the field or blind.
- Phillip Fulmer